Todays post is the books I read in July and the grand total of books read was *drum roll* 7 books. This may seem like a little number to some but considering I've only just gotten out of my reading slump, I am proud of me.
Here are the books I read this month.
How To Stop Time
by
Matt Haig

Pages:

325



"

Tom Hazard has a dangerous secret.





He may look like an ordinary 41-year-old, but owing to a rare condition, he's been alive for centuries. From Elizabethan England to Jazz Age Paris, from New York to the South Seas, Tom has seen a lot, and now craves an ordinary life. Always changing his identity to stay alive, Tom has the perfect cover - working as a history teacher at a London comprehensive. Here he can teach the kids about wars and witch hunts as if he'd never witnessed them first-hand. He can try and tame the past that is fast catching up with him.



The only thing Tom mustn't do is fall in love."

(I reviewed this book earlier this month, so check it here)

4/5 stars.


Book two:
The Eye Of Nefertiti
by
Maria Luisa Lang
Pages: 208
"
The cat must free Queen Nefertiti from a horrific curse
The Eye of Nefertiti is both a stand-alone novel and a sequel to The Pharaoh's Cat. The time-traveling ancient Egyptian feline with human powers returns together with his beloved Pharaoh and his close friends, the High Priest of Amun-Ra and Elena, an Egyptologist's daughter.
The cat is quick-witted, wise-cracking narrator as well as free-spirited, ever-curious protagonist, and the story he tells is an exotic, imaginative, spell-binding tragicomedy. The cat travels from present-day New York City to England, both ancient and modern, then to ancient Egypt, where he confronts a horrible demon and experiences a sublime emotion. Once back in England, he descends into a psychological abyss so deep only the Pharaoh can save him. "
(I also reviewed this book on my blog here)

4/5 stars


Book three:

Every fox is a rabid fox
by
Harry Gallon

pages: 185
"
Robert didn't mean to kill his brother. Now he's stuck between grief and guilt with only ex-girlfriend willow and the ghost of his dead twin sister for company. terrified of doing more harm, Roberts hysteria and anxiety grow while willow and his sisters ghost fight over him: one trying to save him, the other digging his grave."

(Review to follow shortly)

3/5 stars


Book four:

no.6 volume 1
by
Atsuko Asano
,
Hinoki Kino

pages: 160

"
A PERFECT LIFE, IN A PERFECT CITY
For Shion, an elite student in the technologically sophisticated city No. 6, life is carefully choreographed. School, study, and the occasional visit with his friend and classmate Safu. One fateful day, however, he takes a misstep, sheltering an injured boy his age from a typhoon. Known only as Rat, this boy is a VC – a fugitive living outside the computerized tapestry of city control – and helping him will throw Shion's life into chaos and start him down a path to discovering the appalling secrets behind the superficial perfection of No. 6."

(I'm gonna to review the whole series once completed)


5/5 stars



Book five: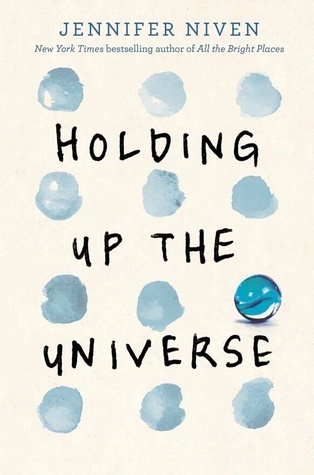 Holding up the universe
by
Jennifer Niven

pages: 391

"
Everyone thinks they know Libby Strout, the girl once dubbed "America's Fattest Teen." But no one's taken the time to look past her weight to get to know who she really is. Following her mom's death, she's been picking up the pieces in the privacy of her home, dealing with her heartbroken father and her own grief. Now, Libby's ready: for high school, for new friends, for love, and for
every possibility life has to offer. In that moment, I know the part I want to play here at MVB High. I want to be the girl who can do anything.
Everyone thinks they know Jack Masselin, too. Yes, he's got swagger, but he's also mastered the impossible art of giving people what they want, of fitting in. What no one knows is that Jack has a newly acquired secret: he can't recognize faces. Even his own brothers are strangers to him. He's the guy who can re-engineer and rebuild anything, but he can't understand what's going on with the inner workings of his brain. So he tells himself to play it cool:
Be charming. Be hilarious. Don't get too close to anyone.
Until he meets Libby. When the two get tangled up in a cruel high school game—which lands them in group counseling and community service—Libby and Jack are both pissed, and then surprised. Because the more time they spend together, the less alone they feel.
Because sometimes when you meet someone, it changes the world, theirs and yours."

(I know what you're all thinking, I've only just got round to reading it???? Yes, I was in a massive slump when it was released, I still bought it on release day though. Review 100% to follow soon)

4/5 stars



Book six: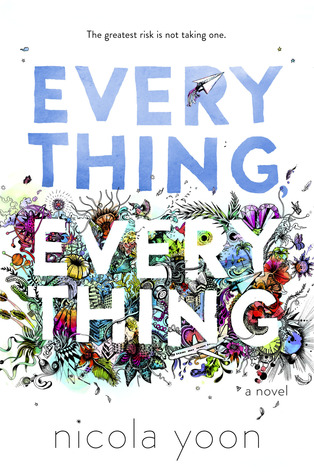 Everything, Everything
by
Nicola Yoon

pages: 310

"
Madeline Whittier is allergic to the outside world. So allergic, in fact, that she has never left the house in all of her seventeen years. But when Olly moves in next door, and wants to talk to Maddie, tiny holes start to appear in the protective bubble her mother has built around her. Olly writes his IM address on a piece of paper, shows it at her window, and suddenly, a door opens. But does Maddie dare to step outside her comfort zone?"

(I enjoyed this so much, review will come soon)

4/5 stars


Book seven: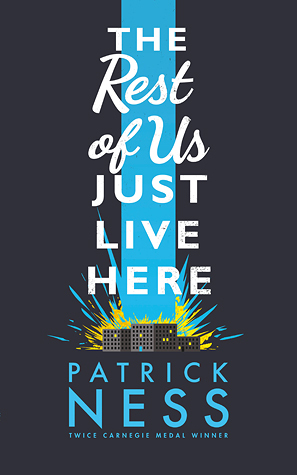 The rest of us just live here
by
Patrick Ness

"
What if you aren't the Chosen One?
The one who's supposed to fight the zombies, or the soul-eating ghosts, or whatever the heck this new thing is, with the blue lights and the death?
What if you're like Mikey? Who just wants to graduate and go to prom and maybe finally work up the courage to ask Henna out before someone goes and blows up the high school. Again.
Because sometimes there are problems bigger than this week's end of the world, and sometimes you just have to find the extraordinary in your ordinary life.
Even if your best friend is worshipped by mountain lions..."

I started this July 27th and finished it august 1st so that counts for July right????

(Review to follow soon)

3/5 stars


That ladies and gentlemen is my July wrap up for you all. I feel proud of myself for reading seven books, I am officially out of my reading slump *loud cheer*

The reading count total is: 1,919 pages


What books did you guys read this month and how many?

Heres to hoping that I read even more in August!


Love, Beth x


t

witter
|
facebook
|
goodreads